Different Metal Packaging Market For Pre Rolls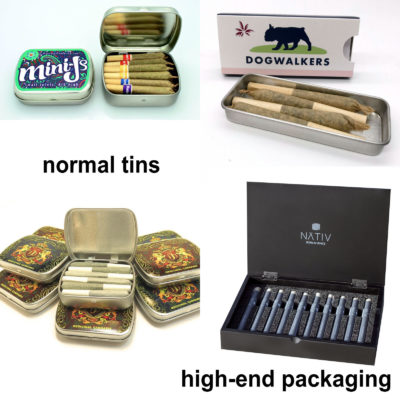 There are various pre rolls brand in the market. They are different from recipe, flavor and cost.
How to differentiate the market position of those pre rolls? Except cost and flavor, it's very obvious from the packaging. The metal packaging can be divided into normal tins, middle-end tins, high-end tins. Nobody wants to spend more than $50 to buy pre rolls that are packed by plastic, glass tube or normal tin case. The market needs special and luxury metal packaging for high-end customers. Let us introduce some metal packaging in market and explain how to make it more luxury to meet high-end market.
For mini pre rolls packaging, compact hinged or slide tin case is mainstream tendency. This design can protect pre rolls breakage very well. Some famous brand like Dog Walkers, Triple JJJ, Mini JS…It's hard to see the high-end market for mini pre rolls because of consuming faster. For mini pre rolls high-end metal packaging, round tin box with flocking insert for pre rolls that packed by glass tube individually or rectangle tin box with flocking insert for pre rolls that are packed by glass tube(like NATIV)
It seems that single, 1 1/4" size and 1 1/2" size are easier to be accepted in the market. The different market of tin packaging is centralized in those sizes. Putting pre rolls into tins directly is called normal tins. Usually, some start-up business prefer normal tins. There are various middle-end metal packaging for pre rolls in the market. Except the nice tins, the insert(metal, PS or foam) holds pre rolls one by one. Just like "Sunday Goods", "Flora Kana"…For high-end market, it's excellent experience of beauty. Not only it's luxury packaging but also does it need to keep fresh or smell-proof. (THC DESIGN, KING GARDEN) Just like THC DESIGN, it's double printing, PS holder, silica gel, moisture proof paper and shrink film. If the PS insert and tin case matched very well, the effect is same(like Juana). For the really high-end metal packaging, there is a new tin case that doesn't appear in the market. It's airtight design with PS insert. All the details are elegant whatever the appearance or touching.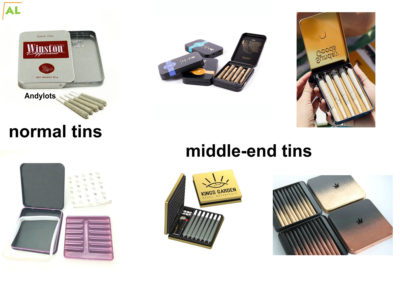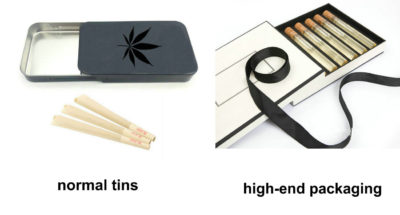 The embarrassing packaging belongs to king size pre rolls. After all, it needs long time to consume one king size pre rolls. Most of companies sell it by one or two pack and use plastic tube directly. Also normal tins to pack king size can be found in the market. It's slide tin case with child resistant bag. At present, there is no middle-end metal packaging for king size pre rolls(except THC). There are more high-end packaging for king size in the market. Most of them are paper box, it's glass tube to pack pre rolls, foam insert to hold glass tube with nice printing paper box. If it changes to be metal packaging, it will be designed to be airtight metal packaging with metal or insert.
The THC infused pre rolls is more popular in the market. More and more companies needs metal packaging not only luxury but also child resistant. In the market, it's hard to find rectangle child resistant tins. Some rectangle child resistant tins with plastic accessories get the bed feedback from market. But it seems that CRALR1006020 rectangle child resistant tins is popular by the market.