Pre-rolls Metal Packaging With Custom Design
Would you like to try custom design metal packaging for your pre-rolls? We know there are various sizes pre-rolls in the market(mini, single, double, 1 1/4", 1 1/2", king size, king slim etc), and for the same size pre-rolls, there are also different packs in it ( like single pack, 3 pack, 5 pack 7 pack). Then how to find the best suitable sizes tin case for your pre-rolls joint? Here we'd like to recommend several hot sale items for your reference.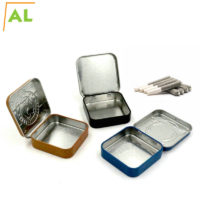 Now in the market, there are two kinds of metal packaging for the pre-rolls: one is the normal tin case (compact size with moisture proof), the other one is luxury tin case ( with PS insert, silicone, moisture proof paper).
For the normal tin case, our ALS6515 model will be the better choice for 5 pack or 8 pack mini size preroll joints.it's hinged structure tin package with a moisture proof paper. The design can also be customize from your requirement. For this size tin case, antique design will be more attractive.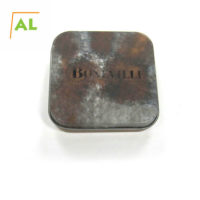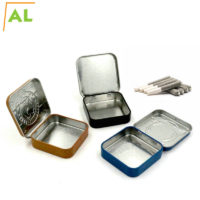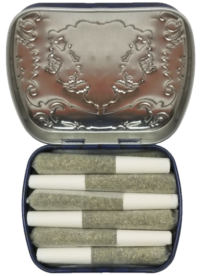 ALR90609 is universal size slide tin case for 5 or 7 pack 1 1/4", 1 1/2" or 84mm size pre-rolls packaging.The structure is very unique in the market as the way you get pre-rolls is pouring it out from tin case.This structure also ensures the 5 to 7 pack will be no problem.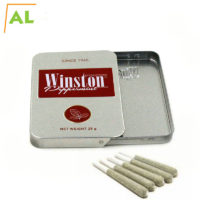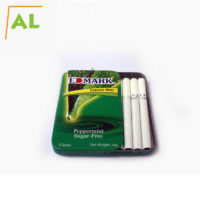 For luxury tin case, ALR10012 is of top standard for pre-rolls just like THC Design, which is very hot in the US or CA. It is most suitable for high-class market, as price will be more expensive. Usually it packs 6 king size pre-rolls and a lighter.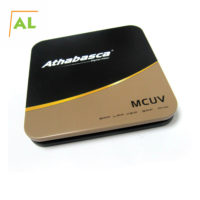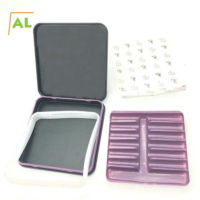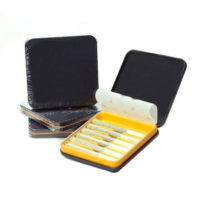 Click the edit button to change this text.
Above metal, the package is not of child resistance. Usually, our customer applies plastic bag or blister to pack in the case again to achieve child resistance structure.
To solve such a complicated procedure, we devote much effort to develop one real child resistance structure in the case for pre-rolled joints. The good news is that rectangular child resistance tin box package will be finished in October finally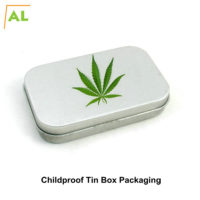 Click edit button to change this text.If you have any requirement about the preroll joints metal package, please feel free to contact with us.